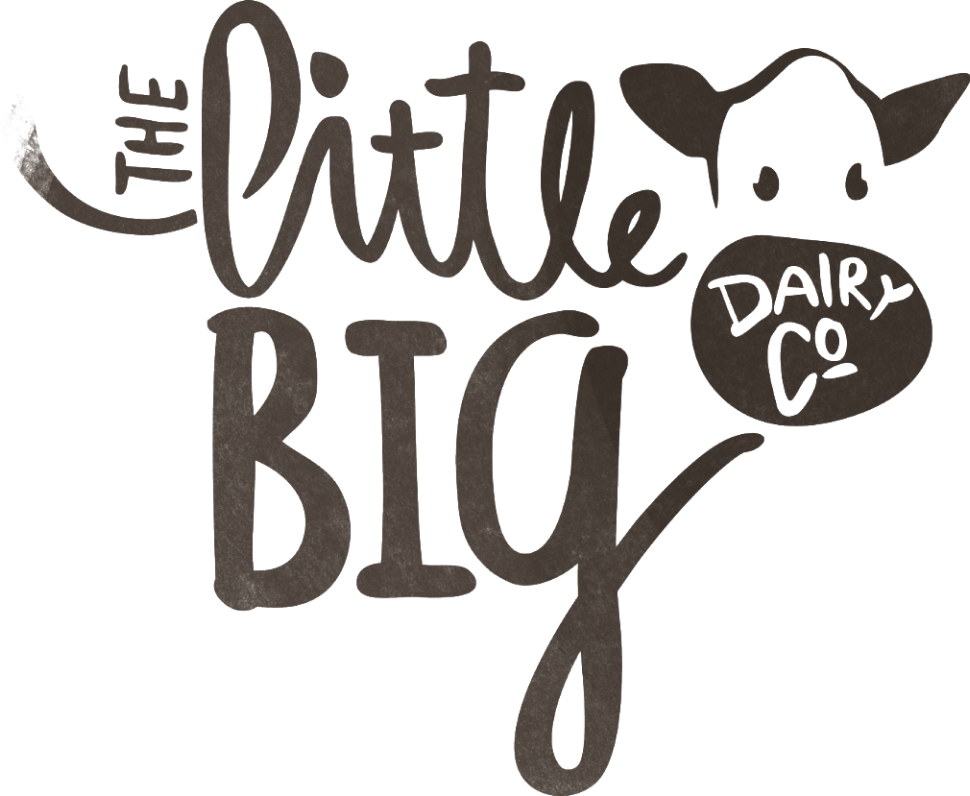 Wholesale Milk Suppliers Sydney
We started the Little Big Dairy Co to deliver the best-tasting, 'Single Source' milk you'll drink to as many people as possible. It's our belief that this shouldn't be reserved for the lucky few. It should be readily available to many, supporting the economy in which it was made.
The measure of a good meal stands on the quality of what goes into it. That includes the ingredients and the level of care shown in how it's prepared. At Little Big Dairy Co, we like to think we're the best wholesale milk suppliers in Sydney because we understand the passion it takes to make something truly great. Whether it's a meal, a fresh bottle of milk, or a business.
We know how difficult it can be to work in the food industry. Our family has been working the dairy for a hundred years and counting. We know you need a reliable source of fresh ingredients to keep your customers happy and your finances balanced.
We work hard to make sure our product is delivered at the same level of superior quality with every order. Our process has been carefully refined and allows us to manage every point of production. All milk is fully processed in a single day and shipped without long periods of storage. That's why our products have a guaranteed shelf-life of 20 days if properly handled.
If they're not managed wisely, perishable ingredients can eat into the profit margin of your business. You can rely on our products for long-lasting freshness, and you can rely on us for quality milk delivered on time; every time.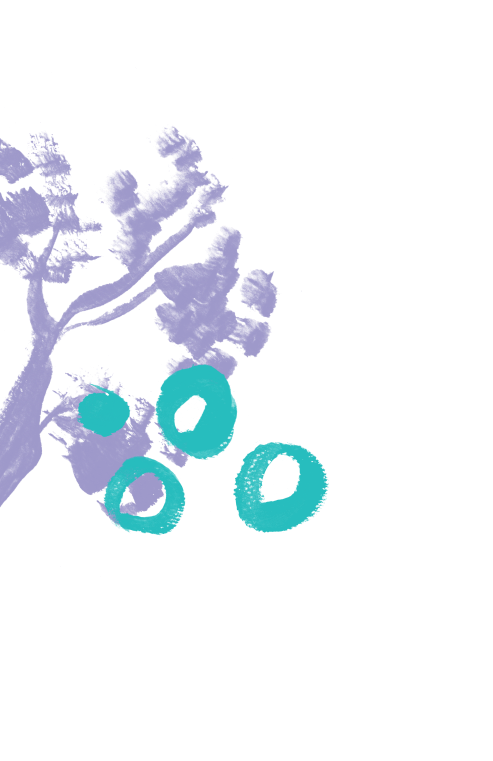 Everything We Believe, Captured In A Bottle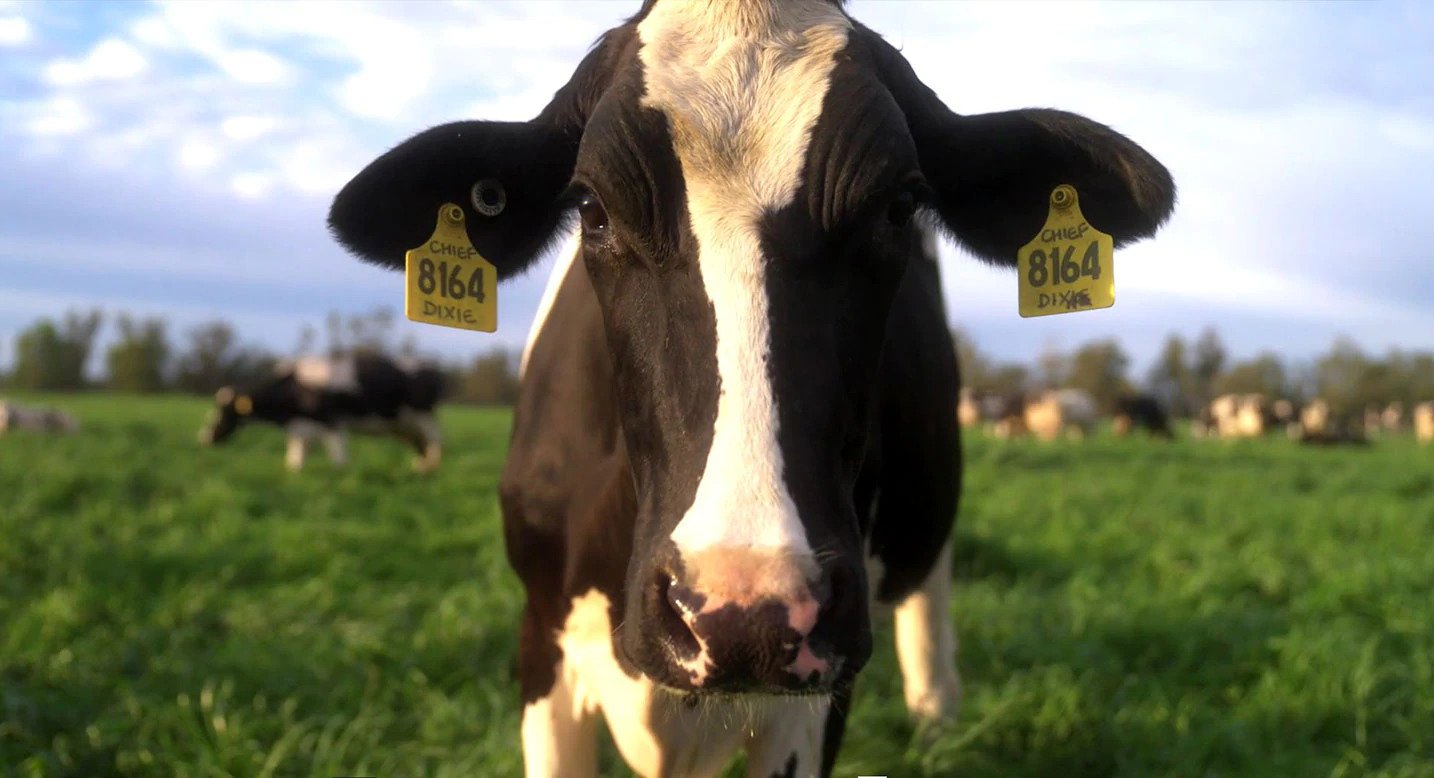 At the heart of our farm on the banks of the Macquarie River are two generations of our family who work tirelessly to bring you Australia's best tasting Single Source dairy brand. We each have a role, working together through the supply chain.
Multi Award
Winning
100% Australian
Owned
Single
Source
Sustainably
Farmed

100% Family
Operated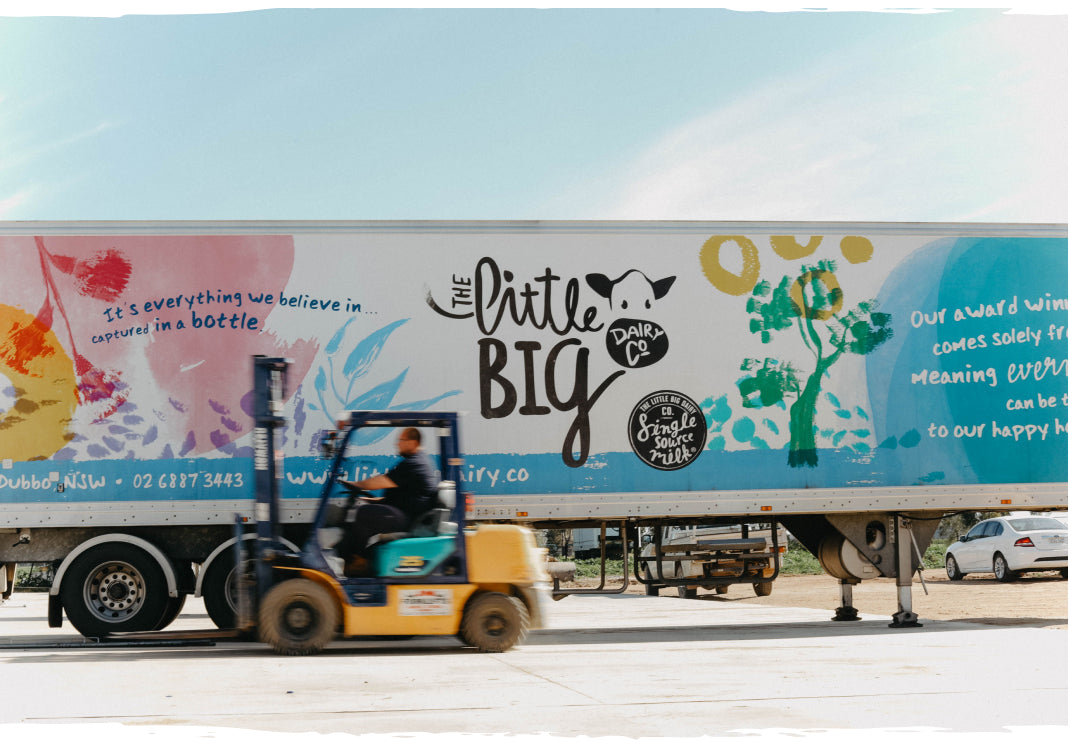 Why Would you
Need

a Wholesale Milk Suppliers in Sydney?

At our company, we like to think of excellent customer service as something that pays itself forward. That's why we created Australia's first single-source dairy farm. We make sure our cattle are carefully tended and fed, relying on generations of knowledge to create unparalleled flavour. From there, we oversee all processing and shipping. This level of oversight allows us to make sure you get the absolute best. That's what sets us apart from other wholesale milk suppliers.

What sets you apart in your industry? When it comes to food, the answer is always in the taste. Whether you're serving up gourmet meals at a high-end restaurant or specially blended coffees at a small cafe, excellent taste will keep your customers coming back.

When it comes to the food industry, everything revolves around your menu. It's the first thing your customers look for, no matter what kind of establishment you run. These days it's becoming more common for people to care about what's in the food, too. Using fresh ingredients noticeably improves the taste of your recipes, and it can also enhance your customer experience.

Think of it this way: there's a tasty milkshake on the menu for almost every burger restaurant. A tasty shake made from single-source milk fresh off the local, family-owned dairy farm? That's more than a great-tasting dessert. It's also an experience your customers will love and want to share with others.
The Little Big Dairy Co

– Wholesale Milk Suppliers in Sydney

If you are looking for wholesale milk suppliers in Sydney for your café, restaurant, or store, then you need to speak to us at The Little Big Dairy Co.

We have been dairy farming for over 100 years, with multi-generational knowledge and experience of what it takes to produce the best-tasting milk – and we want to share that with you and your customers. We are called The Little Big Dairy Co because we are 'little' enough to know each of our beautiful Holstein herd by name, but 'big' enough to perform as wholesale milk suppliers in Sydney and beyond.

Our sustainable farming methods allow our cows to eat grass all year, and our technology allows us to trace each litre of milk to the cow it came from – making us a single source wholesale milk supplier that will get your customers excited.

We offer single source, Fairtrade, and ethical dairy products, where the health and happiness of our herd is the number one priority. We focus on sustainability, working hard to not only protect the environment around the Macquarie River where our dairy herd graze but also to support other local farmers – buying natural feed supplements from them to support our cattle.

Whether you are a restaurant or café looking to source milk that makes the best coffees, or a retailer searching for a local business that produces the best-tasting wholesale milk, you need to stock from our range at The Little Big Dairy Co.

Read More
Exceptional Service From Local Dairy Wholesalers
There's a growing trend, an insatiable appetite for more local ingredients that deliver superior flavour. Bland, tasteless and overly processed is out.
When a customer - whether resident or tourist - sees locally sourced items on your menu, it's a big hit! More people than ever before are concerned about the source of their food and you can help them get the products they want by working with our local milk vendors in Sydney.
Little Big Dairy Co offers a wide range of high-quality milk products such as full cream milk, no cream milk, premium non-homogenised milk, lactose-free milk and a delicious selection of flavoured milks too. All our milk is single source, meaning that we can trace the milk you receive back to a single cow! And not only that, our yummy milk products have received many awards for their premium high quality.
If you want to purchase or stock award-winning single-source milk from local dairy wholesalers in Sydney, Little Big Dairy Co is here to help. Get in touch with us to find out more about how you can purchase your milk supply today.
Expect More From Your Dairy Wholesalers
Little Big Dairy Co takes pride in knowing that, after 100 years of dairy farming, our farm is going from strength to strength. Our practices are built around sustainable and ethical farming. All cows are treated humanely and with great care to ensure they don't experience undue stress.
As a part of our commitment to ethical farming, all ingredients in our flavoured milks are 100% natural with our chocolate milk being made from Fairtrade cocoa. Fairtrade gives farmers a fair wage for the work they put into harvesting and supplying cocoa beans.
From start to finish, we oversee the entire production process - guaranteeing the milk our consumers receive is of exceptional quality and taste. And because we do it all right here on the farm as milk vendors in Sydney, our processing is minimal and takes very little time - as little as 24 hours from cow to bottle! This efficiency passes on a great benefit to you as a consumer or stockist, because your milk will have a longer shelf life. If you run a cafe or restaurant, predicting traffic levels can be hit or miss - but with Little Big Dairy Co milk you'll have less wastage over time compared to milk that's been sitting in storage (for an unknown length of time) awaiting transportation.
Little Big Dairy Co - Your New Milk Vendors In Sydney
There is no comparison between fresh, single-source milk and the general, multi-source milk more commonly available. It must be tried to be believed!
If you're looking for new dairy wholesalers, entice your customers with truly delightful locally made, single-source milk. Whether you offer it in coffee, in milkshakes or even on the shelf in a retail store, your customers will appreciate the premium quality.
Our current stockists have seen a wonderful response to their use of our products, and we are here to help you see the same - or even better - results!
If you would like to stock our milk products, or even if you have any questions, we'd love to hear from you. Please reach out to our friendly customer care team by phone or through our online form, we'll be delighted to help.
Read Less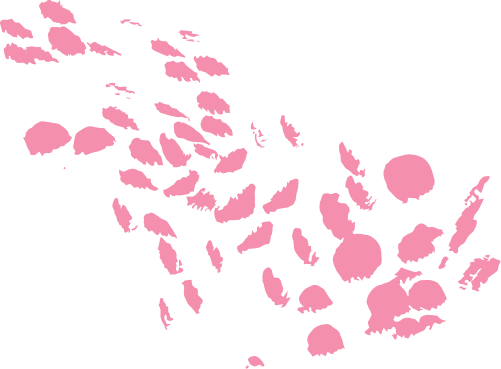 some customer love
Our business has been using Little Big Dairy Milk for around 6 months. We love the flavour, the consistency and the people behind the company. Little Big have been great in supporting our business and we love working with them. Keep up the good work!
I am always searching for milk that has not been stripped of its natural creamy flavour. I am so pleased my search is over! As a farmer I believe happy cows produce better milk and applaud your animal care.
Always a pleasure to support a great product. Throw in an enlightened approach to modern Australian sustainable agriculture that directly profits the actual producers and its an absolute no brainer.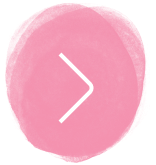 Choose Us as Your
Milk Supplier in Sydney

for Your Retail Store

If you have a store, you want to create loyal customers who come back again and again – and if you stock our milk products, you are positioning yourself as a brand that stocks local, award-winning products.

Our Single Source milk from a family-owned dairy makes us the first choice for milk distributors in Sydney – especially if you want to market your store to discerning shoppers who are looking for premium products from an authentic and ethical supplier.

Our loyal customer base choose us because we offer sustainable production with an intimacy of process that cannot be found with other wholesale milk suppliers in Sydney – and they will come back to your store to get hold of the superior tasting milk products that we supply.
We're the Best Wholesale Milk Suppliers in Sydney
We have supplied many independent cafes and restaurants with our milk to use in cooking and producing drinks – and 99.7% of baristas we have asked to have said we have the best milk for coffee that they have tasted.
We are so confident that you will love our milk in your café or restaurant that we will come to you with a whole day's supply of our award-winning products as a free sample. Not many wholesale milk suppliers in Sydney will offer that!
As part of this 100% free sample, we will also send you an expert from our family who can show you how to get the best out of our milk in your café and restaurant – with no commitments.
If you want to use The Little Big Dairy Co as your wholesale milk suppliers in Sydney, get in contact with a member of our team today.
We've got a lot of passion for what we do, and that's why we like to think we're the best wholesale milk suppliers in Sydney. Fresh flavour from excellent ingredients is the quickest way to stand out in the food industry. Why not let our hard work become your best ingredient for success?
Fresh from our farm to your table, and always on time: That's the Little Big Dairy Co experience. Contact us today and find out just how big a difference fresh milk can make.
Emma
Our Range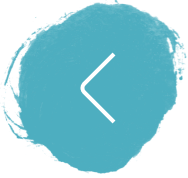 The highest quality, deliciously creamy, single source milk on the market. Like all our products, this award winner is traceable back to the very cow that made it. Available in a 1 or 2 litre HDPE plastic bottle.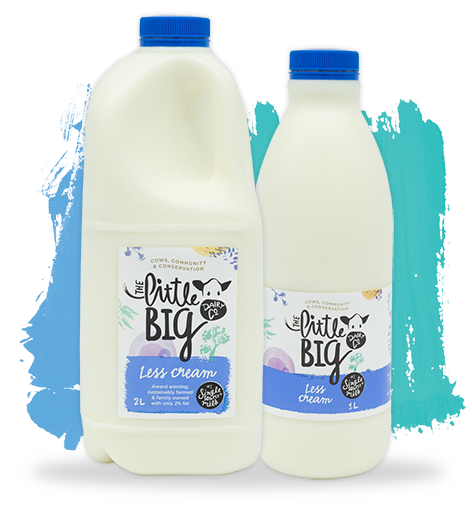 Accredited as being Australia's Champion Milk 2017, our less cream milk has all the flavour of our full cream milk, but a little less fat. Available in a 1 or 2 litre HDPE plastic bottle.
Our no cream milk has had the cream delicately separated out, contains no added milk powder, has 0% fat content, and boasts extreme froth-ability. Available in a 1 or 2 litre HDPE plastic bottle.
For those looking for a less processed option, our premium non-homogenised milk has a lovely thick layer of cream on top that you can shake in or scoop out. Available in plastic or glass.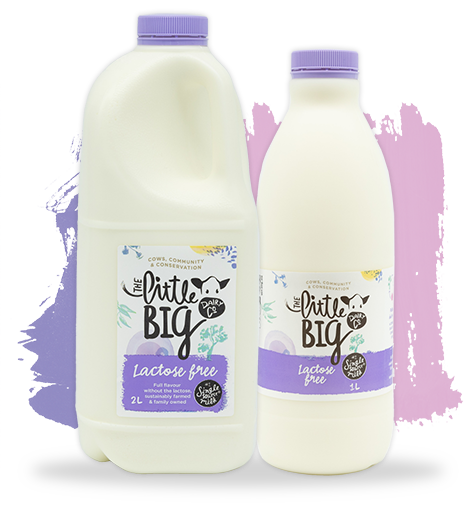 It is your favourite Full Cream milk, still full of flavour but without the lactose. Single Source milk, traceable back to the very cow that made it.
Available in a 2L HDPE bottle.
Made in house and containing only 4 ingredients including real coffee, raw sugar and vanilla in full cream milk, this product is Australia's only Fairtrade accredited coffee milk. Available in a 500ml or 2L bottle.
Made right here on our farm with only 4 ingredients, including raw sugar, cocoa, vanilla and full cream milk, Australia's only Fairtrade accredited chocolate milk is one both adults and kids can enjoy. Available in a 500ml or 2L bottle.
Truly addictive and 100% natural, this delicious drink contains less cream milk, local honey, malt extract and vanilla extract. A great sugar-free treat for all the family. Available in a 500ml or 2L bottle.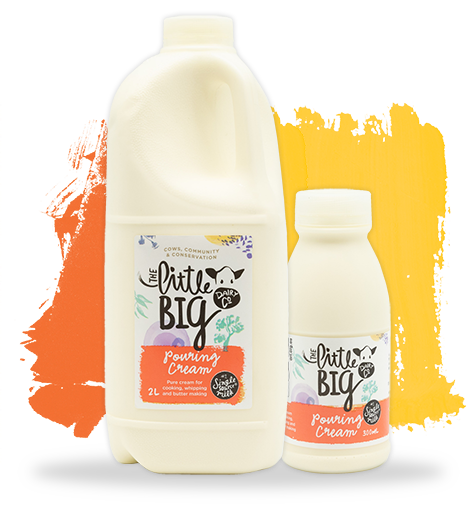 With 42% butter fat content and no additives, people love our 100% pure pouring cream for cooking, whipping and butter making. Available in 300ml and 2L HDPE bottles.
Available in 300ml glass jar or 1.1 litre and 2.2 litre tubs, our award winning cream is so sweet, so thick and so luscious, it's no wonder it was judged the number 1 cream in Australia in the 2018 Grand Dairy Awards.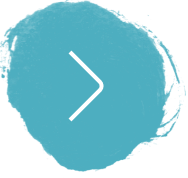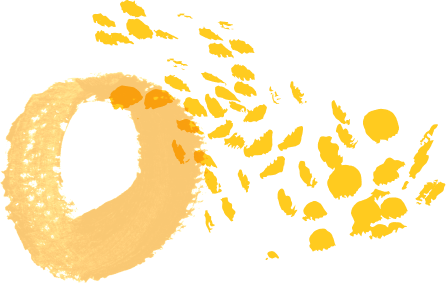 Award Winning
and this is only a few!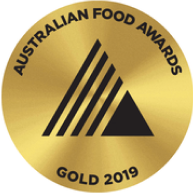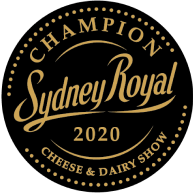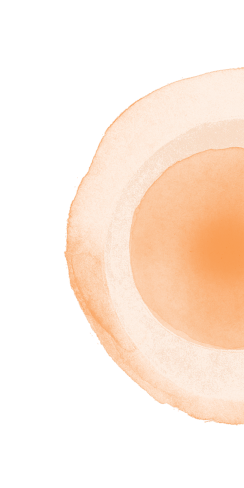 Want to try it for yourself?
Here's Where You Can Buy Our Products
Unlike most dairy brands, 1km down the road from our milking parlour is our own processing plant. This means we can guarantee the traceability, quality and integrity of our Single Source milk.

Yes!

We Wholesale To
Cafes And Retailers
To Cafe Owners
Our Single Source approach delivers high quality milk from source to supply that is traceable down to the very cow that made it. Bottled fresh daily in our on-farm factory, our milk has the perfect texture and stretch to enhance the taste of your coffee. Get to know how we produce better performing, more consistent and better tasting coffee.
To Retail Outlets...
Stocking the Little Big Dairy Co brand differentiates your store as a purveyor of unique, high-quality produce, and attracts shoppers with an appetite for premium milk from an authentic, ethical dairy supplier. People who try our milk tend to become loyal consumers, which means they'll keep coming back to your store.